Living in Crosby's Shadow: Malkin's Absence from the NHL 100
Going into the all star break, Evgeni Malkin of the Pittsburgh Penguins is sitting right behind teammate Sidney Crosby in the points leaderboard for the 2016-2017 season, and being right behind "Golden Boy" Sidney Crosby is a position that Malkin has gotten, unfortunately, quite used to. On nearly any other NHL team Malkin would have been the star, but sitting on the Penguins lineup next to one of the world's greatest results in his achievements being overlooked as he is forced to play in Crosby's shadow.
Yesterday as the NHL's 100 greatest players of the last 100 years were announced, a plethora of legends took the stage to celebrate a century of amazing hockey. As the broadcast got to the most recent decade, a key figure was evidently missing from the lineup, Evgeni Malkin. Patrick Kane, Crosby, and Alex Ovechkin were undoubtedly three players expected to make the list and nobody questions the excellence of Jaromir Jagr; however, it is easy to wonder how a player such as Jonathan Toews made the list over someone as dominant and talented as Malkin. Any Blackhawks fan will be quick to state their three cups are proof enough to support the presence of three current players in the NHL top 100, but that reason is simply not good enough.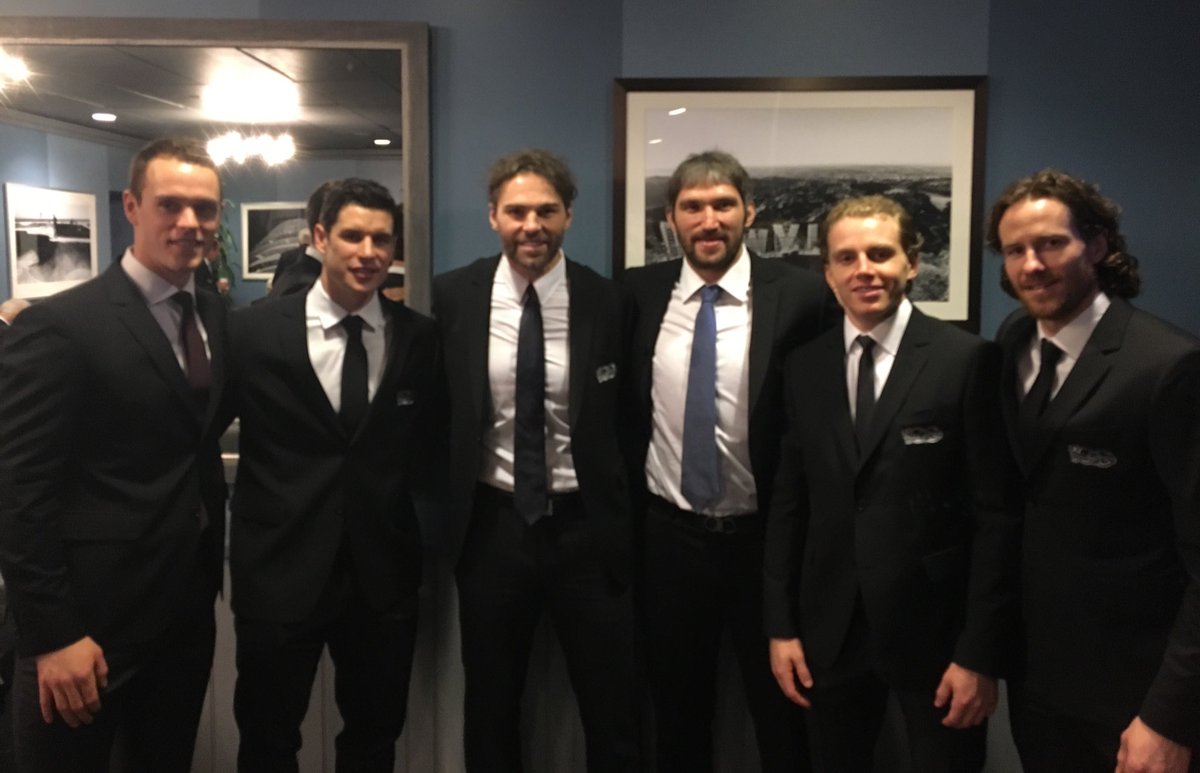 The NHL's Current Greats Honoured Last Night (Left to Right): Jonathan Toews, Sidney Crosby, Jaromir Jagr, Alex Ovechkin, Patrick Kane, Ducan Keith.
In his 687 games, Jonathan Toews has 260 goals and 332 assists for a combined total of 592 career points. In just four more games (691) Malkin has 317 goals and 497 assists for a total of 814 career points. Malkin also goes above and beyond in situations other than 5 V 5, with 317 powerplay points as compared to Toews' 157. Based off of the numbers, it is evident that Malkin is far more dominant and has had a larger impact than Toews so his absence in the lineup was clearly shocking.
How about comparing Geno to the other current greats? Compared to fellow Russian Alex Ovechkin, Ovi has played 888 career games and has 548 goals and 463 assists for a career total of 1,011 points, a massive feat, no doubt. However, Malkin having played 197 less games is only 197 points behind Ovechkin, and with a career average of 1.17 points per game it is likely that he will catch up to and surpass Ovechkin's point total.
Let's now compare Geno to Patrick Kane. In 709 career games, Kane has 266 goals, 446 assists, and 712 career points. That means that in 18 less games Malkin has 102 more career points than the Blackhawks star.
Lastly, we have the comparison with teammate Sidney Crosby. Crosby has played 749 career games and has a total of 366 goals and 627 assists for a total of 993 career points. That means Crosby's points per game career average is 1.32 which is higher than Geno's, yet comparable; however in stats such game-winning goals, Malkin-54 and Crosby-49, and overtime goals, Malkin-10 and Crosby-9, it is evident that Malkin is as critical of a factor in the Penguins' offense as Crosby is, yet he is not getting the same recognition for it as his captain.
Pittsburgh great and current owner Mario Lemieux stated that he was "very surprised" that Malkin was not included and cited that Malkin has "won two Stanley Cups, [a] Conn Smythe, [and an] Art Ross. It's tough." And tough it is. Based off of the pure raw statistics it is obvious that Malkin not only fits in with, but is clearly a leader within the current NHL greats honoured in the NHL 100 ceremony, which is why it is devastating that his name was not one of the names to be called. More attention needs to be given to this unquestionable star, as he is certainly one of the greatest hockey players in the NHL right now and one of the greatest hockey players of all time in the NHL. Just because he shares a Penguin jersey with legend Sidney Crosby, doesn't make him any less of a legend himself.