The Future of the NWHL: Playoffs and Expansion
The NWHL announced that this season would conclude slightly earlier due to the upcoming IIHF Women's World Hockey Championships. The Isobel Cup Final will now be held on March 19th as the World Championships begin March 31st. The role of national team members in the league is significant and league commissioner Dani Rylan discussed the two events by stating, "one of the primary missions of the NWHL is to help women realize Olympic dreams and national team aspirations, so concluding our season prior to the World Championships is the right thing to do."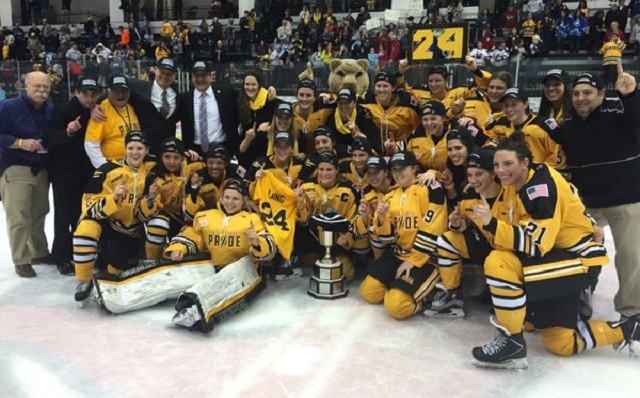 Last season's Isobel Cup champions: the Boston Pride
Furthermore, the NWHL announced that the league would return for two additional seasons and that next season will consist of the original Founding Four franchises of the NWHL: Boston Pride, New York Riveters, Buffalo Beauts, and the Connecticut Whale.
Thoughts of expansion are also being discussed; however, next season will not see the rise of any new franchises. Next season the league will instead analyze the success and sustainability of plausible future franchises and commissioner Rylan discusses this by stating "the [founding four] teams will play the majority of the schedule in their home markets, with the possibility of a few neutral-site games during the regular season in order to promote the league and gauge reaction to prospective expansion franchises." Interest is growing in the NWHL so the addition of more franchises in the future will not be surprising as long as women's hockey continues to grow throughout the United States.
A slight concern for the upcoming 2017-2018 season is that the season will run without the presence of national team members as they will be participating in the 2018 Winter Olympic games. Unlike the NHL where the league is prioritized over international competitions, as seen by the ongoing debacle regarding the participation of NHL players in the upcoming Olympic games, the NWHL currently acts as a supplementary playing opportunity for women focused on international competition. The future of the league will depend on how this next season will be able to run without their national team superstars, as that will provide insight into the role of the league in the world of women's hockey.